Beyond King Tut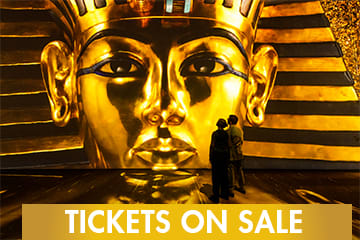 Important Information
When:
November 04, 2022 – December 31, 2022
Location:
1933 S. Broadway, Los Angeles California 90007
Hours of Operation:
Monday & Tuesday: Closed. Wednesday – Friday: 10am – 8pm (last entry 7pm) Saturday & Sunday: 10am – 9pm (last entry 8pm)
Duration:
The visit will take approximately one hour with final entry one hour prior to show close. The experience is self-guided so stay as long as you like!
MORE INFORMATION
Beyond King Tut: The Immersive Experience is a cinematic exhibition that takes guests on a journey through the true story of King Tut, and one of the greatest archaeological discoveries of all time. Using the next generation of visual storytelling, this immersive exhibition goes beyond a traditional artifact display and uses the power of photography and larger-than-life multimedia to invite guests into the world of the pharaohs and bring the archives of National Geographic to life. Through nine galleries, visitors are transported into the past through a unique narrative of this 3,000-year-old story.