Pure delight – it's an unforgettable vibe. The Best Way to See LA!
Discover one of the world's most wondrous places; explore the unforgettable vibe of Downtown Los Angeles from above on an open-top city sightseeing bus tour. A Hop-On, Hop-Off Double Decker open-top tour from above is one mega-guide to spectacular picture-perfect photographing through the City of Angels.
The visuals that a tour bus offers surpass anything you might see from a car by far, with the novelty of learning about history and fun facts. From iconic shots like skylines silhouetted against a sunset sky, neon light vibes, architecture, legendary architecture, murals, famous movie shoot locations, Hollywood sign: this is what photography in L.A. is made of!
Our Hop-On, Hop-Off system is simple – Please purchase your ticket online before leaving home and make sure you have either printed your ticket with the Q.R. code or have the Q.R. code on your phone with you to then board our bus at any of the 14 Downtown LA stops or Hollywood Stop #1 on front of the Dolby Theatre.
Nine Language Narrations- With panoramic views from the top of a bus, you can enjoy informative pre-recorded tour guide narration in your choice of nine languages, including English, Spanish, Portuguese, Chinese, Japanese, Korean, German, French, and Italian.
The Downtown Los Angeles route, starts from Stop 1 in Hollywood in front of the Dolby Theatre at StarLine Tours ticket kiosks. The Purple Route, Explore Downtown Los Angeles historic and iconic attractions on the Purple Route.
Our advice would be to use the City Sightseeing Double Decker bus to get on and off at the main attractions and museum stops. Or sit back and relax to experience the authentic cultural buzz where skyscrapers rub shoulders with historical buildings and museums share street addresses with iconic landmarks.

Top downtown L.A. things to do and see.
1. Broad Museum
2. Walt Disney Concert Hall
3. Union Station
4. Olvera St. shopping
5. MOCA Museum
6. Grand Central Market
7. Bradbury Building
8. Angels Flight
9. Art District
10. L.A. Live
11. Grammy Museum
12. Lookout from Los Angeles City Hall
13. LA Library
14. Explore the Fashion District in Los Angeles
15. DTLA architecture
16. Sip a Cocktail on a Rooftop LA offers many rooftop bars that offer dazzling views of the city lights and mountains surrounding the area. Favorites include Perch, Broken Shaker, and Spire73.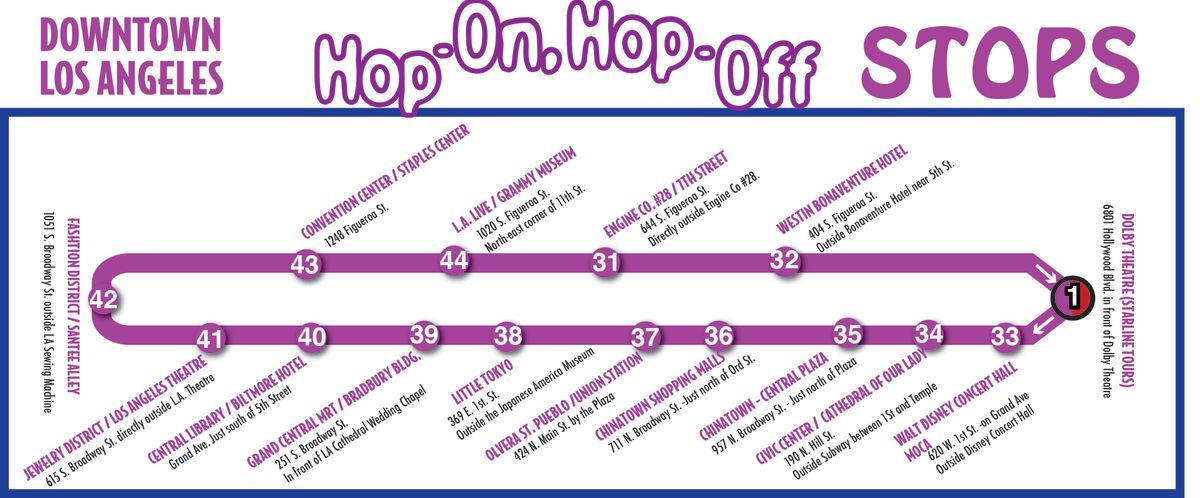 Stop 31: Engine Co No 28 on S Figueroa St.
The first stop in downtown Los Angeles is a bus stop 31 at the Engine Co No 28 on S Figueroa St. Look for the shell of an old Los Angeles Fire Department Station, renovated and turned into a restaurant.
Just 1 min (387 ft) walk down Wilshire Blvd head over to the Intercontinental Hotel, the tallest building on the West Coast. The elevator ride leaves visitors in awe with breathtaking views from the 70th-floor sky lobby atop miles of glass & steel shaped, then another elevator to the 73rd floor to go to the tallest open-air bar in the entire country.

Next stop 32: The Bonaventure Hotel.
The Westin Bonaventure Hotel is a modern landmark in downtown Los Angeles. The futuristic five cylindrical, mirrored-glass towers structure; looks like something straight out of a science fiction movie, with glass elevators shooting up through the lobby's roof and racing up the sides of the glistening high-rise. It is one of the ten most-photographed buildings globally and has become a standard Hollywood filmmaking backdrop for many memorable movie moments.
You may have seen this gorgeous glass building in the 1998 Oscar-winning drama "Rain Man" (with Dustin Hoffman and Tom Cruise) the 1995 romantic comedy "Forget Paris" (with Billy Crystal and Debra Winger). Other Movies Filmed Here Include: Heaven Can Wait, In the Line of Fire, Interstellar, Lethal Weapon 2, The Lincoln Lawyer, and True Lies. Get your cameras ready.

Stop 33: Walt Disney Concert Hall.
Stop number thirty-three is a fantastic place to visit. You must hop off at the Walt Disney Concert Hall. Walt Disney Concert Hall became a Los Angeles icon the moment it opened its doors. Designed by Pritzker Prize-winning architect Frank Gehry, with acoustics by Yasuhisa Toyota, Walt Disney Concert Hall has received worldwide critical acclaim and praise from concertgoers for its stunning architecture feat and incredible, extraordinary sound. Entry is free.
Self-guided audio walking tours of the concert hall are available from 10 am to 3 pm. Visitors can explore Walt Disney Concert Hall on a self-guided audio tour or a guided tour. Audio tours are the most comprehensive way to explore the hall and are offered most days. The self-guided audio tour takes visitors through the concert hall's history, from conception to completion. Narrated by Emmy and Tony Award-winning actor John Lithgow, the audio tour includes insights from architect Frank Gehry and takes visitors on guided tours through much of the interior space and throughout the gardens while presenting highlights of the spectacular building.
Stop 33: The Broad Museum A 2-min walk from the Walt Disney Concert Hall is one of the most famous museums in Los Angeles, The Broad Museum. This gallery became popular because of its "Instagram-able" attractions like the mirror rooms, the giant tulips, the America sign. It even has a larger-than-life-size table you can walk right underneath. It's a free museum, but you do need tickets in advance, and be prepared to wait for about an hour if you don't get a ticket in advance to get in.
Stop 33: The MOCA Museum From the Broad museum, walk 1 min (351.0 ft) along S Grand Ave to MOCA (Museum of Contemporary Art), a contemporary art museum in the heart of downtown L.A. While this doesn't have as many of the crazy exhibits like The Broad does, it's still a great place to see some unique art and walk around the two to three floors they have. The giant metal piece in the outdoor lobby is worth visiting just to see that. MOCA is open 11 am-5 pm Thursday-Sunday. Please be aware reservations do not guarantee entry, depending on capacity restrictions. All visitors must reserve online in advance for a timed entry ticket. Visitors will enter the galleries based on capacity.

Stop 34: Cathedral of Our Lady of the Angels
After that, head over to stop 34; we have the Cathedral of Our Lady of the Angels, a cathedral of the Roman Catholic Church in Los Angeles. The Cathedral of Our Lady of the Angels is a beautiful church built to last 500 years. Rather than the standard stained glass windows, the building features one of the largest glass-sheltered alabaster windows in the world. They are flooding the nave with opaque light in subtle earth tones. Be respectful if you visit here. If the cathedral's beauty compels you to learn more about the art, history, and significance, free guided tours are available Monday–Friday at 1 pm. From here, you can head over to Chinatown Plaza stop 35,

Stop 35: Chinatown Central Plaza
Exploring Los Angeles Chinatown is a rewarding cultural experience, with dozens of restaurants, herbal shops, and temples with their pagoda rooftops make up a tiny Asian world. The area has become an icon, featured in many Hollywood movies, including the Rush Hour trilogy, Lethal Weapon 4, and Roman Polanski's 1974 classic Chinatown. If all this exploring makes you hungry, several restaurants serve different types of food, from Cantonese street food to dim sum.

Stop 36: Chinatown Shopping
Stop 36 Chinatown shopping is a 4 min (0.2 mi) on N Broadway from the China Plaza stop 35. This small area is a lot of fun to take pictures of the unique colorful architecture, traditional Chinese lanterns across many streets, statues, murals, and gates. Without a doubt, Chinatown was created to resemble the streets of Shanghai with food and shopping. Movies such as Lethal Weapon and Rush Hour have been filmed here. Los Angeles' historic Chinatown has long served as a gateway for countless Chinese and Asian immigrants coming to the United States. Commemorating this historical fact is the much-photographed entrance into Chinatown Gateway Monument, also known as the Dragon Gate. It is a fun area that immerses you in the past and present of Los Angeles.

Stop 37: Olvera St.
Olvera St. is found at bus stop 37, which is the birthplace of Los Angeles with the oldest house in Los Angeles and dozens of shops, restaurants, and other businesses. El Pueblo de Los Angeles Historic Monument is at the site of the first pueblo, where 44 settlers of Native American, African and European heritage journeyed more than a thousand miles across the desert from present-day northern Mexico September 1781.
Right across the Street from Olvera St., 1 min (0.2 mi) on East Cesar E Chavez Avenue, is the Union Train Station. The Union Station is the Los Angeles train station and was featured in movies like Blade Runner. It's many decades old and is an excellent place to walk around and explore the unique architecture.

Stop 38 Little Tokyo
After that, head over to Little Tokyo, at stop 38, next to the Japanese Museum. This area has a unique mall full of all sorts of Japanese-related items, has different restaurants that you can try. One of the city's best, this museum tells the story of Japanese immigration to the U.S. in, engaging fashion. Even if you've no prior interest in the subject, you'll be drawn into it by the perfectly pitched displays. Aside from the permanent exhibition, the museum stages an engaging roster of documentary and art exhibitions, including a wrenching yet beautiful collection of images and artifacts from the internment as mentioned above camps.
Half a mile east of Little Tokyo is the Arts District, home to an urban artists' colony for creatives of all types. Take a journey into the unique creative worlds of hidden artist lofts, back-alley graffiti, private gallery showings, and street art adventures off the beaten path. Much of the art you will see on walls in the L.A. Arts District was not sanctioned by the City of Los Angeles, which imposed a moratorium on murals back in 2003. In defiance of the ban, and with the cooperation of the community and local businesses, the L.A. The free walls mural project began facilitating the acquisition of walls for international and local artists to paint in 2009. It's now an exciting place for locals and visitors alike to explore—not to mention, sample bang-up tacos at a beloved food truck-turned-brick-and-mortar restaurant, and get your daily dose of hops at the laid-back local beer hall. It stretches south from Commercial Street to 7th Street with several different hubs of activity, mostly below 1st Street. Book a live walking Art District tour. Your guides, all local artists themselves, are eager to introduce you to this vibrant world, teach techniques and history, and share the work of their friends and fellow artists.

Stop 39: The Grand Central Market / Bradbury Building
The following recommendation is stop 39, The Grand Central Market, Downtown LA's food court. It's been there for decades, with lots of unique restaurants. Now, it's part of the foodie revival in L.A. to try a memorable dish.
From there, walk across the Street to the Bradbury Building, 1 min (131.2 ft) on S Broadway, which was also featured in Blade Runner and is a super cool piece of architecture that you can explore during business hours.

Stop 40: Biltmore Hotel & Central Library
Close by at stop 40 or a 4 min (0.8 mi) walk along W 4th St is the Central Library and Biltmore Hotel. The building, built in 1926, was added to the National Register of Historic Places in 1970. The eight-story building is the third largest central library in the U.S. and houses more than ten million items, from popular fiction titles to rare genealogical publications, historic photographs, and U.S. patents. The focal point of the old library, also known as the Goodhue Building, is the Rotunda. Then, twelve murals painted by Dean Cornwell in 1933 depict the history of California. Ornamental and symbolic artworks are integral to the library's design. It alluded to ancient Egyptian, Roman, Byzantine, and various Islamic civilizations and Spanish Colonial and other revival styles. The brilliantly colored tile pyramid at the building's summit features a sunburst and is topped by a handheld torch symbolizing the light of knowledge.
Tours are led by a member of the teaching staff and are available on weekdays at 12:30 pm. On Saturdays, there are three tours: 11 am, 12:30 pm, and 2 pm. Sunday tours are at 2 pm. Want to tour solo? You can grab a guide at the information desk or online. From Los Angeles Library walk 8 min (0.3 mi) along S Grand Ave to Angeles Flight for a fun little train that you can ride. It takes you about a block up, and it only costs a dollar. No doubt you've seen this fun attraction in some recent movies like La La Land.
Our next recommendation from stop 40 is The Last Bookstore 7 min (0.3 mi) walk on W 5th St. This old bank building was turned into a two-story bookstore with an insane amount of books but has many other cool things to see as well. Some of those are the book tunnel that you can walk through and the old bank vault, which houses crime novels. It's an excellent place to walk around and take it all in.

Stop 41 Broadway Theatre District.
Stop 41 drops you off at the beginning of six blocks stretching from 3rd to 9th Street along South Broadway in Downtown Los Angeles, called the historic Broadway Theatre District. At its height, between 1910 and 1931, the district had the highest concentration of cinemas in the world. The Broadway Theatre District was added to the National Register of Historic Places in May 1979, the first and largest historic theatre district listed on the Register. It is the only large concentration of movie palaces left in the United States. Efforts by the Los Angeles Conservancy, the Bringing Back Broadway initiative, the Broadway Theatre Group, and the Los Angeles Historic Theatre Foundation have restored many of these theatres to their original splendor. New generations of Angelenos can now experience live performances and cultural events at these spectacular venues. The Clifton's Cafeteria, at 648 S Broadway, is a famous Los Angeles spot that has been around for over 50 years. This unique cafeteria has all sorts of absurd things for you to see, such as tigers that you can sit next to, a giant three-story tree, and all kinds of weird oddities around the restaurant. It's a great place to go with your family.

Stop 42: L.A. Fashion District
From here, you can head to stop 42, which is the L.A. Fashion District. The district comprises early twentieth-century buildings with nods to European architecture and art-deco decadence. The L. A . jewelry district became a classy place for jewelry shoppers to get lost in a world of sparkle. There is an atmosphere in the Los Angeles diamond and Fashion district that many people enjoy, though others may find it pushy and a little shady. Spanning 100 blocks in the heart of Downtown L.A., the Los Angeles Fashion District is the hub of the L.A. fashion industry, featuring more than 2,000 independently-owned retail and wholesale businesses with apparel, accessories, and footwear for the entire family. The district is also home to the lively Santee Alley, the largest selection of fabrics and notions in Southern California, and the L.A. Flower District, the largest flower market in the United States.

Stop 43: Staples Center
Don't miss the wonderful Convention Center, and Staples Center at bus stop 43 - a local favorite, and with good reason L.A. LIVE is anchored by STAPLES Center, home to four professional sports teams (Los Angeles Lakers, Los Angeles Clippers, Los Angeles Sparks, and Los Angeles Kings). STAPLES Center has presented virtually every major indoor sporting event in Southern California, including ESPN's X Games, HBO Boxing, the Pac-10 Basketball Championship Tournament, U.S. Figure Skating Championships, the NHL and NBA All-Star Weekends, and the WTA Championships. The STAPLES Center has also become the premier venue for musical performances, family entertainment, televised award shows, and many major events in the region. STAPLES Center has welcomed such major touring acts as U2, Paul McCartney, The Eagles, Prince, Justin Timberlake, Garth Brooks, Cirque du Soleil, The GRAMMY® Awards, and the Democratic National Convention, among others.

Stop 44: L.A. Live / Grammy Museum
Our next recommendation is to head down to L.A. Live stop 44, or a 9 min (0.4 mi) walk from stop 43 along S Figueroa St to the Grammy Museum. If you're a fan of music, then the Grammy Museum is a great place to explore. It talks about past winners, instruments that you can play, microphones you can sing into, and revolving exhibits on punk rock and famous guitars. There are records in the ground along the museum sidewalk, much like the stars on the Hollywood Walk of Fame, talking about the different artists who won categories during the Grammy's year.
Stop 44, is the last stop in the downtown Los Angeles route before back to stop 1 Dolby Theatre, Hollywood Red route loop.

Why A Hop On Hop Off Tour is the Best Way to Explore a City
You won't miss out on major tourist sites.
It's a safe way to get around an unfamiliar city
Learn about each site and hear some interesting facts about the city as you explore!
The visuals that a tour bus offers certainly surpass anything you might see from a car by far.
Buses are a cheap and convenient tour option, for one reasonable ticket price.
Avoid Getting Lost / Wasting Time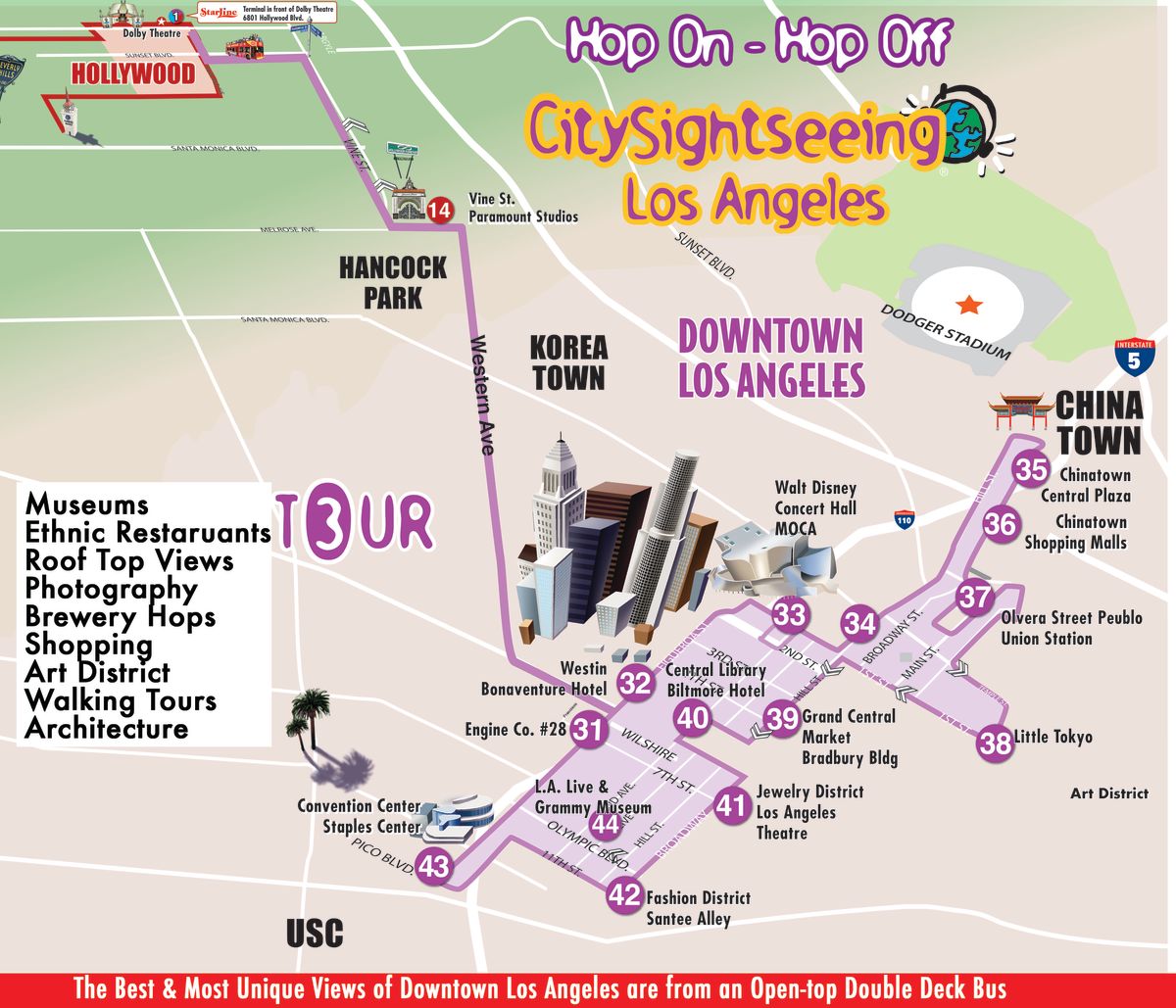 To learn more about our L.A. Hop-On Hop-Off bus services, or to book your trip, please give us a call at (+1) 323-463-3333.
LA Traffic Disclaimer: Please be prepared as the nation's fifth most congested city for traffic the consequences maybe traffic-clogged delays and "time loss" A word on safety: Parts of downtown LA have a large number of homeless people, and while generally, they keep to themselves, it's always best to use common sense and be aware of your surroundings.