With more celebrity sightings than any other Hollywood homes tour, the fun starts with us!
Ellen's Hidden Camera Prank on our Hollywood Tour Bus!
Tour Points of Interest:
Hollywood Blvd. & Walk of Fame
Mullholland Drive
Sunset Strip
Famous television and movie locations
Here's just a sampling of the celebrities whose current or former homes you may visit:
Quentin Jerome Tarantino
Drew Carey
Gloria Estefan
Gwen Stefani
Katy Perry
Sacha Baron Cohen & Isla Fisher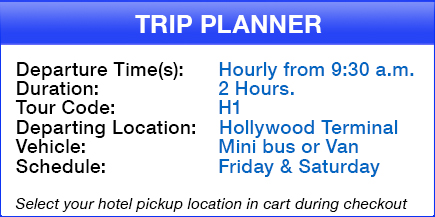 Every year, millions of visitors come to Los Angeles, many of them with hopes of spotting a celebrity or movie star. At Starline Tours, we've created Hollywood stars' and celebrity homes tour that deliver a fascinating look at how the "other half" lives while giving you the best chance to spot a famous name in the flesh!
We offer Hollywood's top-rated celebrity home tours, led by engaging, expert guides who share fascinating insights and entertaining narration during your outing. In addition to showcasing the glamorous and exclusive properties of legendary neighborhoods and districts in Beverly Hills and the Hollywood Hills, our excursions also highlight popular celebrity hangouts and hotspots along the world-famous Sunset Strip and Rodeo Drive in fashionable Beverly Hills.
Our Hollywood homes tour leads you through the city's most iconic landmarks aboard comfortable 13-passenger buses. Thanks to special arrangements with municipal officials, Starline Tours buses are permitted to go where other tour companies are forbidden!
There are many, many more, so be sure to bring your camera. You never know who you might spot during your tour!
Our storied history dates back to 1935, when we became the first company in Los Angeles to offer celebrity home tours.
It all started in 1935, when an intrepid chauffeur got the idea to put together organized trips for tourists who wanted to see the homes of the era's famous movie stars. A lot has changed in Los Angeles in the 80-plus years since we launched our operations, but our motto has stayed the same: at Starline Tours, the fun starts here!
Our movie star homes tours guide you past the residences of some of the most famous names in the entertainment industry. All the while, our guides share historical tidbits and anecdotes that bring these exclusive neighborhoods to life like nothing else. Your trip also includes a stop on Mulholland Drive, where you can enjoy a panoramic vista of Los Angeles, and we're also pleased to highlight iconic landmarks including the Hollywood sign and the Hollywood Walk of Fame, among others.
Customers who book through our website can take advantage of special online offers, or you can complete your booking by calling Starline Tours at 1-800-959-3131 or (+1) 323-463-3333. Read on for further details.
Why is CitySightseeing Los Angeles/Starline Tours my best option for celebrity homes tours?
Starline Tours is L.A.'s original and best provider of celebrity homes tours. Because of Starline's storied history and unique agreements with city officials, Starline is allowed into neighborhoods where other tour companies are not allowed to go.
How do the celebrity homes tours work?
It's easy! Just join us at Starline's Hollywood, Santa Monica, or Orange County departure point, climb on board our open-air van and enjoy!
How do I reach the tour departure terminal?
Starline Tours can provide free hotel pickup and drop-off service in many areas of the city. To arrange your complimentary shuttle to the nearest departure point, please give us a call.
Which celebrity homes will I see?
Our tours feature dozens of beautiful homes and luxurious estates that are currently or formerly owned by famous names of yesterday and today. You can learn more about specific tours by visiting Starline Tours.