Warner Bros' Tour & Hop On Hop Off City Sightseeing 48Hr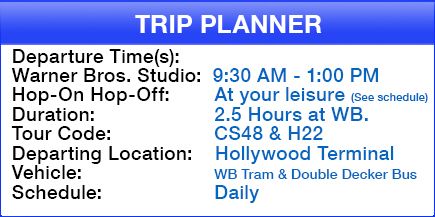 See Hollywood from "Behind-the scenes"!
See "Behind-the scenes" and "into-the-scenes" of your favorite shows and movies at the world's busiest motion picture and television studio. Guests of the Warner Bros Studios VIP Tour are offered a rare look into the world of entertainment.
Warner Brothers' Tour highlights include:
Backlot streets
Soundstages Sets and craft shops
Warner Brothers'
Museum Transportation Museum
The tour is intimate with a group of no more than twelve and transportation are provided by private electric cart. The VIP Tour guide will take you to where the action is and provide you with inside information and history on each set you visit. Walk on to a set of hit television shows (like The Ellen Show, The Mentalist, and Two and a Half Men - depending on availability), hear as Foley artists create sound effects for movies, see how sets are constructed, walk through rows and rows of costumes, watch a special effects demonstration, and the list goes on.
The set of Friends television show
There is plenty of exciting things to see and do on the Warner Brothers' VIP Tour. If you are a fan of Friends, you can step onto the recreated set of "Central Perk" from the hit television show and take a seat on their couch, or you can visit the prop department to see the furnishings of numerous movies and TV shows. The real vehicles from your favorite movies and television shows can be seen at the Transportation Museum and a visit to the Warner Brothers' memorabilia museum will take you into the past and present of moviemaking. Always be on the lookout for a star as production is happening all around. Your visit to Hollywood is not complete until you've experienced this one-of-a-kind tour!
Picture ID is required for admittance into Warner Brothers' Studios. Children under 8 are not allowed in the park.
Discover Starline's Hop-On Hop-Off Hollywood Bus Tour!
Starline Tours' Hop-On- Hop-Off Hollywood buses have become an iconic fixture in the city. With six action-packed routes throughout Los Angeles, our Hop-on-Hop-Off buses are perfect for visitors who want some time to explore choice attractions and points of interest in more detail. When you reach a destination you'd like to spend some time at, simply hop off the bus and enjoy your stay. Then, once you're ready to keep moving, simply hop back on the bus and continue your journey.
Our hop-on hop-off Hollywood buses feature six routes:
● The Red Route, running through the heart of Hollywood and Beverly Hills and visiting major sights including Rodeo Drive, the Sunset Strip, the Hollywood Walk of Fame, the Dolby Theatre, and more
● The Yellow Route, which extends west from Beverly Hills into the beautiful coastal city of Santa Monica
● The Purple Route, bringing the wonders of L.A.'s newly revitalized and historic downtown core to life
● The Green Route, with highlights including the Venice Beach boardwalk and Marina del Rey
● The Blue Connector, bridging Hollywood with Universal Studios, and the Orange Connector, helping guests in LAX airport-area hotels meet up with the Green Route in Marina del Rey