Hop On Hop Off 24 Hours & Madame Tussauds Hollywood
Enjoy 24-hour access to our Hop On Hop Off L.A. tours and finish with a trip to Madame Tussauds Hollywood.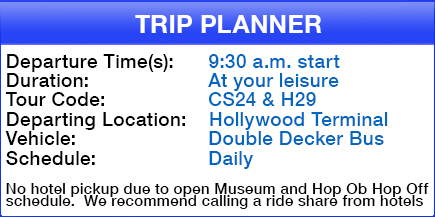 Starline's Hop On Hop Off Los Angeles tours are perfect for visitors who want to get acquainted with the many attractions the city has to offer while enjoying the freedom and flexibility to explore particular points of interest. With a total of six bus lines including four sightseeing routes and two connector routes, Starline's Hop On Hop Off network covers every major corner of the city and runs more than 100 miles.
When you purchase this combination ticket, you'll get access to the entire network for a full 24 hours, along with admission to Madame Tussauds world-famous wax museum. First, here's an overview of how our Hop On Hop Off buses work:
● Purchase your tickets, obtain a printable schedule online or from any Starline Tours terminal, and head to the nearest stop
● Board the bus, show your ticket, and enjoy the trip
● Hop off at any destination that you'd like to explore, spend as much time there as you like, then use your schedule to catch the next bus
● Continue exploring the city at your convenience for the duration of your 24-hour ticket
● You get unlimited access to the network, but we recommend sticking to a maximum of two lines to get the most out of your experience
Along the way, you'll have the opportunity to access pre-recorded tour narration, which offers interesting insights into the sights and points of interests along each route. Narration is available in nine different languages, including English, Spanish, Portuguese, French, Italian, German, Chinese, Japanese, and Korean, making this the ideal outing for sightseers visiting from outside the United States.
Conclude your Hop On Hop Off L.A. tours with a trip to Madame Tussauds Hollywood.
Once your tour is complete, or during your down time in Hollywood, simply show your ticket for admission to Madame Tussauds, the world-famous wax museum on Highland Avenue. Madame Tussauds is one of the most popular tourist attractions in Los Angeles, featuring full-size wax figures so lifelike you'll swear you were face-to-face with the real thing. See your favorite movie stars, musicians, and sports heroes, and be sure to bring your camera along. You'll want to take plenty of pictures of your favorite celebrities!
This outing combines great fun with fantastic savings, and it delivers an authentic Los Angeles sightseeing experience you can't get anywhere else. To learn more, or for assistance completing your reservations, please call 1-800-959-3131 or (+1) 323-463-3333.