Explore Citysightseeing Los Angeles on StarLine's Hop-On, Hop-Off double decker bus tour!
With the largest open-top Hop-on Hop-off City Sightseeing bus service in the world! Discover the many marvels of Los Angeles attractions on the ultimate customized tour in comfort and style!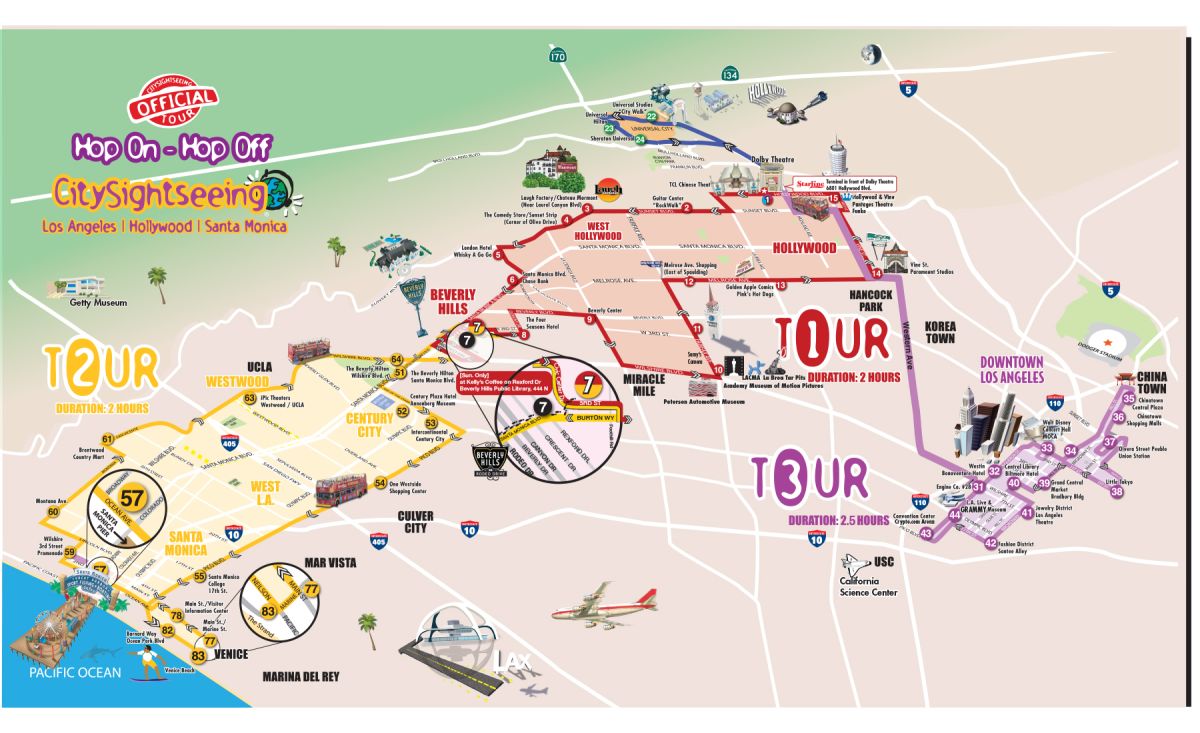 City Sightseeing Hop On Hop Off includes 3 routes, Hollywood, Santa Monica and Downtown LA. Select one route or all three.
For more questions and answers click top frequently asked questions.
Hop-On, Hop-Off ticketing is simple –
Purchase your ticket online before leaving home and make sure you have either printed your ticket with the QR code or have the QR code on your phone with you to then board our bus at any of the ​45 stops we maintain throughout the greater Los Angeles area.
Ticket Options-
We offer three main types of Hop-On, Hop-Off bus passes, including One Day, Two Day and 3 Day access. Your pass to the city, delivers incredible adventures and great value for your money.
Nine Language Narrations-

With panoramic views from the top of a bus, you can enjoy informative pre-recorded tour guide narration in your choice of nine languages, including English, Spanish, Portuguese, Chinese, Japanese, Korean, German, French and Italian.
Our Hop-On, Hop-Off bus route Services:
With action-packed routes crisscrossing Los Angeles, our Hop-On Hop-Off buses are perfect for visitors who want to explore L.A's treasured destinations.
At your convenience simply hop off and once you're ready hop back on the bus to continue your journey.

1. DOLBY THEATRE (STARLINE TERMINAL)
2. GUITAR CENTER, "ROCKWALK"
3. CHATEAU MARMONT / LAUGH FACTORY
4. THE COMEDY STORE / SUNSET STRIP
5. LONDON HOTEL / WHISKY A GO GO
6. SANTA MONICA BLVD. / CHASE BANK
7. [Mon-Sat] 3RD ST/BEVERLY HILLS
8. [Sunday ONLY] REXFORD DR/BEVERLY HILLS
9. FOUR SEASONS HOTEL, BEVERLY HILLS
10. BEVERLY CENTER – SHOPPING
11. Academy Museum/LA BREA TAR PITS/ PETERSEN AUTO
12. FARMERS MARKET / THE GROVE
13. MELROSE AVENUE – SHOPPING
14. PINK'S HOT DOGS
15. VINE STREET / PARAMOUNT STUDIOS
16. HOLLYWOOD AND VINE / PANTAGES THEATRE

57. OCEAN AVE. / SANTA MONICA PIER
59. WILSHIRE / 3RD ST. PROMENADE
60. MONTANA AVE. / EUCLID ST
61. BRENTWOOD COUNTRY MART
63. WESTWOOD / UCLA / HAMMER MUSEUM
64. THE BEVERLY HILTON - WILSHIRE BLVD
7. Mon-Sat 3RD ST/BEVERLY HILLS
7. Sunday ONLY REXFORD DR/BEVERLY HILLS
51. THE BEVERLY HILTON - SANTA MONICA BLVD.
52. CENTURY PLAZA HOTEL
53. INTERCONTINENTAL CENTURY CITY
54. ONE WESTSIDE SHOPPING CENTER
55. SANTA MONICA COLLEGE / 17TH ST
82. BARNARD WAY / OCEAN PARK BLVD
83. VENICE BEACH
77. MAIN ST. / MARINE ST.
78. MAIN ST. / VISITOR CENTER
1. EL CAPITAN THEATER l
31. ENGINE CO. #28 / 7TH STREET
32. WESTIN BONAVENTURE HOTEL
33. WALT DISNEY CONCERT HALL / MOCA
34. CATHEDRAL OF OUR LADY
35. CHINATOWN - CENTRAL PLAZA
36. CHINATOWN - SHOPPING MALLS
37. OLVERA ST. /PUEBLO/UNION STATION
38. LITTLE TOKYO
39. GRAND CTR. MKT/ BRADBURY BLDG
40. CENTRAL LIBRARY / BILTMORE HOTEL
41. JEWELRY DISTRICT / L A THEATRE
42. FASHION DISTRICT / SANTEE ALLEY
43. CONVENTION CTR / STAPLES CENTER
44. L.A. LIVE / GRAMMY MUSEUM
Our easy-to-use online schedules and City sightseeing map, make it a breeze to plan your day. Allow 45 minutes between bus services at each stop, to plan your activities.
To learn more about our L.A. Hop-On Hop-Off bus services, or to book your trip, please give us a call at 1-800-959-3131 or (+1) 323-463-3333.
LA Traffic Disclaimer: Please be prepared as the nation's fifth most congested city for traffic the consequences maybe traffic-clogged delays and "time loss"
Package our Hop-On Hop-Off Hollywood bus tours with other sightseeing outings and save!
LA Traffic Disclaimer: Please be prepared as the nation's fifth most congested city for traffic the consequences maybe traffic-clogged delays and "time loss"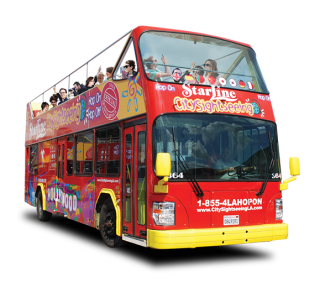 Why A Hop On Hop Off Tour is the Best Way to Explore a City
You won't miss out on major tourist sites.
It's a safe way to get around an unfamiliar city, Learn about each site and hear some interesting facts about the city as you explore!
Discounts To Attractions
Choose which places you want to stop at and how much time you want to spend there.
The visuals that a tour bus offers certainly surpass anything you might see from a car by far.
Buses are a cheap and convenient tour option, for one reasonable ticket price.
Meet Other Travellers
Avoid Getting Lost / Wasting Time
Great photos opportunities from the top of a double deck: Selfie, Pink Wall, Angel Wings, Urban Lights, Santa Monica Pier, Venice Beach. LA city, Hollywood sign.
Eats: Pink's Hot Dogs, Farmers Market, Taco Food trucks, Koreatown Yup Dduk LA. & Korean BBQ Restaurants.
Jimmy Kimmel Surprises Hollywood Tourists at the Oscars on one of our bus tours!